ANSI TYPE 1A 300 LBS Duty Rating
Introducing the MODSTEP, the newest addition to the innovative Xtend+Climb® product offering. Featuring a unique aluminum chassis design, the MODSTEP boasts a robust ANSI Type 1A Duty Rating, while maintaining a lighter, more useful product.
The goal of the MODSTEP is to break the mold of the current stepstool and stepladder competition by designing a new ladder, which serves a wide range of functions for consumers.
The MODSTEP with its large ergonomically shaped 13 inch wide by 15 inch deep platform, is the only ladder optimized for the use of AOS. The unique swing frame has been designed to function as a platform for integration with the Active Organization System™ – a unique system from Xtend+Climb® that targets storage and organization not only during ladder usage, but while on the go or on your tool bench. The Top Paint/DIY Tray holds up to 75 lbs of paint/tools and lifts off when you need to carry your tools on the go.
Large Ergonomic Platform

over 13 inches wide by 15 inches deep is virtually the same standing height as a 6 foot stepladder but with much greater stability.

Lightweight Industrial Grade Aluminum Chassis with Cross Bracing for extra strength
AOS Top Paint/DIY Tray that integrates with Swing Frame
Top Safety Bar for added safety
Extra Wide 4" Steps, grooved and ridged for slip resistance
Powder coated finish for durability
Lightweight for easy lifting
Overmolded foot design for grip
ANSI TYPE 1A 300 LBS Duty Rating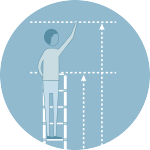 Safe Working height: 34 Inches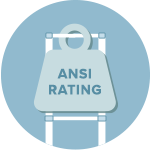 ANSI TYPE 1A 300 LBS Duty Rating