15.5 ft. Telescoping Aluminum Extension Ladder (19.5 Reach Height), 300 lbs. Load Capacity ANSI Type IA Duty Rating
ANSI EXTRA HEAVY DUTY – TYPE IA, 300 LB WORKING LOAD
The Xtend+Climb® CS155+/300 is safe, durable, and portable productivity. Elevate getting the job done with Xtend+Climb® Construction Series CS155+/300 Telescoping Ladder. Xtend+Climb® patented True Telescoping Technology allows this multi-position ladder to extend smoothly and lock completely at the desired height for unmatched versatility and safety. The Construction Series CS155+/300 boasts an ASNI/OSHA Type 1A Load Capacity of 300lbs and fully extends to 15.5 feet and retracts down to 36 inches. This versatile ladder is an ideal choice for various settings, including the workplace or at home for any do-it-yourself projects.
SAFETY – ANSI/OSHA certified and meticulously designed to achieve a higher level of safety
STORABLE – Retracts from feet to inches in seconds and store almost anywhere
PORTABILITY – Allows for effortless one-handed carrying and seamlessly fits into any vehicle
EASY TO USE – Simply extends to the user's desired height and retracts smoothly with our patented locking mechanism
ECO FRIENDLY – Sensible alternative to a heavy and bulky extension ladder, producing a smaller carbon footprint
Distinctive Features:
-Patented True Telescoping Technology
-Aerospace Engineered Aluminum Alloy
-Double overmolded feet for durability, traction, and safety
-Angled Thumb Release.
15.5 ft. Telescoping Aluminum Extension Ladder (19.5 Reach Height), 300 lbs. Load Capacity ANSI Type IA Duty Rating
ANSI EXTRA HEAVY DUTY – TYPE IA, 300 LB WORKING LOAD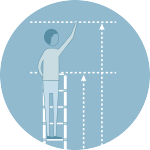 Safe Working height: 12.5′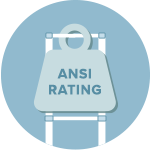 ANSI EXTRA HEAVY DUTY – TYPE IA, 300 LB WORKING LOAD